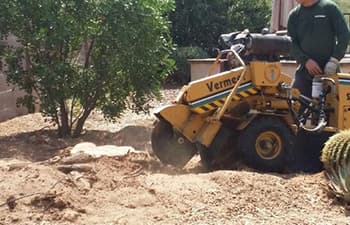 If your property is marred by unsightly tree stumps, now is the perfect time to get rid of them.
Our fast, professional stump grinding and removal services will allow you to have the clear and beautiful lawn you've always wanted.
Ever been tripped over a tree stump? You know how dangerous these remnants can be, and if you've ever tried to remove one yourself, you know that the job isn't easy. Allow Finest Tree Service of Tucson, AZ to utilize our tools and expertise to destroy those stumps.
Stump Removal Done Right
Stump removal is about more than just grinding what can be seen from the surface. When you hire us, you can enjoy complete stump removal, including the parts that are hidden underground.
When we're done, you can landscape however you'd like, without fear of the stump or thick roots showing up again.
Call us to discuss your tree stump grinding needs! (520) 304-1603